Presents
Robert Volkmann
String Quartet No.5 in f minor, Op.37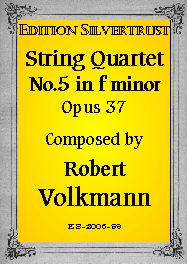 Friedrich Robert Volkmann (1815-1883), though born and schooled in Germany, spent his entire working life living in Austria-Hungary. After a brief stint in Prague, Volkmann obtained a postion in Pest in 1841 and made friends among the large German community there. Though he went to Vienna in 1854, he missed Pest and moved back in 1858. He remained there for the rest of his life.
Throughout his life, Beethoven was to serve as his model, although Mendelssohn and Schumann also influenced him. In his day, Volkmann and his music were highly regarded. Hans von Bülow, the famous conductor, noted that when Liszt had a stranger visiting him, for whom he wished to provide a superlative enjoyment, he played a Volkmann piano trio with Joachim the famous violinist and the cellist Cossmann. Volkmann's second piano trio was often mentioned in the same breath as Beethoven's Op.97, "The Archduke." During his lifetime, Volkmann's music was was not only considered the equal of that of Schumann or Mendelssohn but also more advanced.
Most critics regard Volkmann's 5th String Quartet as the most striking, unique and powerful of the six he wrote. It dates from 1859, a year after he composed No.4. Formally, it is only in three movements which is in itself, for the time, quite unusual. The opening Allegro literally explodes with power and rage. The part-writing is masterly and creates a full-bodied, rich sound, verging on the orchestral. A peaceful Adagio in D flat comes next. In the final movement, initially marked Allegro energico, Volkmann creates two, if not three movements. At first, the music veers off in the fashion of a scherzo, a driving, powerful movement in ¾ time of the sort one finds in Beethoven's middle period. The Allegro literally runs itself down into a very beautiful contrasting Andantino which cleverly makes use of the first theme from the Allegro while, at the same time, changing it into something totally different in mood. This, in effect, is the trio to the de facto scherzo. It, in turn, is superceded by an Allegro molto, which becomes faster and faster (presto and prestissimo) as it heads toward the coda which leaves both listener and player alike out of breath.
This quartet would be a tremendous success in the concert hall and certainly belongs there. Experienced amateurs should have no problems with it and will certainly enjoy it.
Parts: $24.95