Presents
Anton Webern
Langsamer Satz in E Flat Major for String Quartet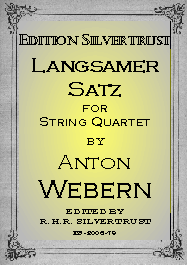 Anton Webern (1883-1945), of course, is well-known and needs little introduction as one of the founding fathers of the Second Vienna School and leading proponents of the 12 tone system. However, what is not well-known is that he did write at least two short tonal movements for string quartet.
The Langsamer Satz (Slow Movement) dates from 1905 and was said to have been inspired by a hiking holiday in the mountains outside of Vienna Webern took with his soon to be fiancée and later wife. He intended to write an entire quartet but put it aside after completing this one movement.
Not surprisingly, the Langsamer Satz is a highly charged work, clearly rooted in post-Brahmsian romanticism and tonality. A medium length quartet movement, the Langsamer Satz expresses a plethora of emotions from yearning to dramatic turmoil to a tranquil peaceful denouement . It shows that Webern, like Schönberg and Berg, was capable of writing very fine music in a tonal idiom if he chose. This work is a little masterpiece, suitable as an encore for professional groups but still within easy reach of competent amateurs.
Our entirely reset and easy to read new performance edition is the first in a half-century. Edited by R.H.R. Silvertrust, (editor of The Chamber Music Journal) our edition has removed the highly redundant, unnecessary and annoying warnings and markings which appear in virtually every measure and which have cluttered past editions making them almost unplayable. (for example it is not necessary to put pp or the words slower, slower in each measure). Worse yet, until now, players needed to have 3 years of college German because these copious instructions are all in German. We have substituted the universal Italian (e.g. molto espressivo for sehr ausdruckvoll or ritard for zurückhaltend) and at the same time have taken especial care to make clear that Webern's intentions can easily be grasped and executed by the players.
Parts: $14.95

Score & Parts: $19.95