Presents
Leó Weiner
| | | |
| --- | --- | --- |
| Soundbite 3rd Movt | | To the best of our knowledge, Divertimento No.2 has only been recorded once and this by a string orchestra. Nonetheless, the sound-bites give an excellent idea how it would sound with a quartet |
Divertimento No.2 for String Quartet, Op.24a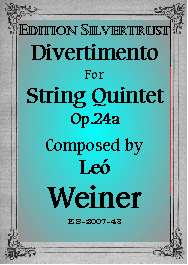 Leó Weiner (1885-1960) was born in Budapest and began by studying the piano as a youngster. In 1901 he entered the Budapest Academy of Music and studied composition with Hans Koessler. His rise was meteoric and he was widely regarded as a "wunderkind", winning virtually all of the important Hungarian and Austrian competitions between 1903 and 1908. Critics dubbed him the "Hungarian Mendelssohn." Weiner was essentially a Romantic composer and his compositions, though certainly featuring modern touches, never ventured into either polytonalism or atonalism. As these trends pioneered by Stravinsky, Bartok and Schonberg began to come into vogue, Weiner's reputation and that of his music slowly receded, as did the music of other contemporary composers who remained faithful to traditional tonality.
The Divertimento No.2 was composed in two versions, the original for string quartet and a second version for string orchestra. It dates from 1938, Weiner's so-called second or middle period. In the earlier works, Weiner was influenced by the Romantic composers but wrote in a post-romantic style. Then, in the second period, unwilling to abandon tonality, but feeling that the time for post-romanticism was finished, he devoted himself, much like Bartok and Kodaly had earlier, to investigating and using original Hungarian folk melodies. The Divertimento consists of four movements, each based on a different folk melody. The first is entitled Wedding March, Tempo di csardas. It is based on a Verbunkos, and a close relative to the famous Hungarian recruiting marches in spirit. It is lively and full of elan. The second movement, hard to translate is perhaps best put as, Teasing Pranks. Though marked Allegro scherzando, the mood is of the main section is that of an intermezzo, while trio section, usually slower, here is quicker. The third movement, Lament, is an Andante sostenuto. The title expresses the emotion. The finale, The Jovial Shepherd, is exotic-sounding and exciting. It is based on a well-known Hungarian folk song, Simon has gone stealing pigs, but it is fair to say that the music does not conjure up the images of this. It is an unrelieved whirling dance which brings the Divertimento to a close.
A divertimento, by its title, is not meant to be "serious" or deep music, but diverting. Divertimento No.2 accomplishes this in good style, presenting its four Hungarian folk dances. Quartet groups will have a lot of fun playing this piece, which can be programmed in concert as well.
Parts: $19.95