Presents
Vasily Zolotarev
| | |
| --- | --- |
| | Unfortunately, we have no soundbites for this superb work. We hope to find some soon. |
String Quintet for 2 Violins, Viola & 2 Cellos in f minor, Op.19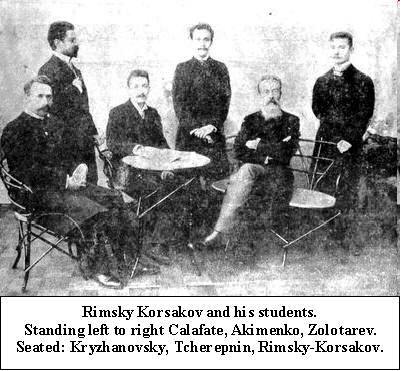 "During the first half of his career, Zolotarev devoted himself almost entirely to the writing of chamber music, in which he displays great mastery, knowledge of the chamber style, thematic inventiveness and a good grasp of form. His 1905 Quintet for Strings must be singled out as an interesting and extremely emotional composition, effectively written for all of the instruments."--the respected critic Leonid Sabaneyev, writing in Cobbett's Cyclopedic Survey of Chamber Music.
Vasily Zolotarev (1872-1964) was born in the Russian city of Taganrog. He studied at the St Petersburg Conservatory with Rimsky-Korsakov and Mily Balakirev. He taught at the Moscow Conservatory for a number of years and then in Belarusian Academy of Music in Minsk. He composed in most genres and was especially fond of chamber music. Through Rimsky Korsakov, Zolotarev became part of the so-called Belaiev Circle, named for those composers, mostly Korsakov's students, whose music Belaiev published. All of Zolotarev's early chamber music was published by Belaiev. The String Quintet in f minor is dedicated to Belaiev's memory.
The famed chamber music critic Wilhelm Altmann, writing in his Chamber Music Handbook has this to say:
-
"I highly recommend this work for concert performance and to experienced amateur players. The big, serious opening Andante ma non troppo e con tristezza is a poignant lament. Evenually, a contrasting middle section, poco piu mosso, briefly lightens the mood, before the dirge returns with even greater intensity. Here, one hears echoes from the Andante con moto quasi Allegretto movement of Beethoven's Op.59 No.3, but it should be remembered that the Op.59 were the Razumovsky Quartets which had Russian themes, so perhaps Zolotarev was not quoting Beethoven but a Russian folk melody. The music is quiet throughout. Real Russian folk melody can be heard in the Scherzo, allegro ma non troppo which comes next. The main section is original sounding and quite charming while the contrapuntal trio section has a dance-like theme. The next movement, Andante, is a kind of intermezzo which begins with an introductory fugue based on the main theme of the first movement followed by a genial Allegretto grazioso. The Quintet concludes with a massive, magnificent finale, which has an Allegro introduction leading to an Allegro ma non troppo whose chief theme is march-like. Many changes of mood and tempo follow including a beautiful, lyrical interlude and a triumphant march section. Then comes a section reminiscent of the Coronation scene from Mussorgsky's Boris Godunov with its powerful Russian hymn."
This outstanding work has been unavailable for many decades. We are very pleased to make it available and warmly recommend it to amateurs and professionals alike.
| | | |
| --- | --- | --- |
| (A) Quintet-Parts Only | $29.95 | |
| (B) Parts & Score US Addresses Only | $38.95 | |
| (C) Parts Score Non US Addresses | $44.95 | |